Heavenly Chocolates
Tucked away on one of the streets leading away from Tomas Morato's busy, restaurant-lined stretch is a chocoholic's dream–or in this case, heaven. Heavenly Chocolates is a good dessert destination for Q.C. residents and students, offering reasonably priced sweet treats in a comfortable, Wi-Fi-equipped setting.
WHAT TO ORDER: The Belgian Dark chocolate fondue (P250) was sweet and thick, though the chocolate was not quite warm enough. We liked that their regular-sized dipping selection(P150) included potato chips (good way to stop from getting chocolate overload), but found the chocolate brownies redundant and unappealing. It would've been nice if they were included in the price of the chocolate sauce, too.
The Malty Maniac (P100) was delicious, thick, and creamy–though it tasted a lot like a Milo shake.
The bestseller among the Rated R drinks (for 21 and above only) is Mexican Mocha (P135), which has a dash of coffee liqueur. Nothing spectacular except for a hint of a kick from the coffee liqueur.
The Single Origin Hot Chocolate (P80 for a 5-ounce cup) was the perfect way to warm up on a rainy afternoon. The Mexico hot chocolate, a limited edition variant, was creamy and flavorful, without being too thick. A word of warning though: the deep flavor of the chocolate may be a bit too much for those who like their hot choco sweet and watered-down.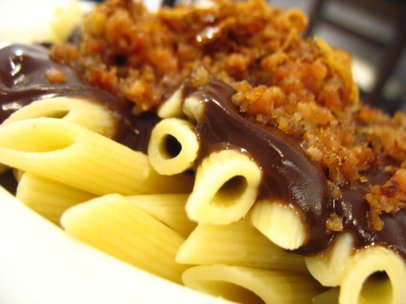 Heavenly Chocolates' Montezuma (P150) is for those with an adventurous palate. Bittersweet chocolate ganache is poured over a serving of penne pasta topped with bacon bits and shallots. Before you turn your head away from chocolate-flavored pasta, the dish surprisingly grows on you after a few forkfuls. The saltiness of the bacon bits offsets the sweetness of the semi-thick chocolate sauce, enough to warrant a nod from serious chocolate-loving foodies.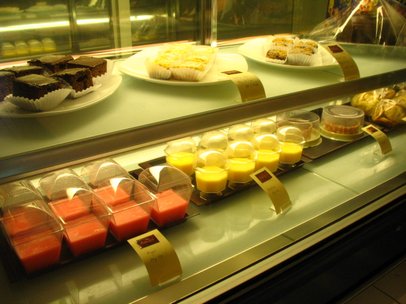 WHEN TO GO: After lunch or dinner, when there's still room left for dessert. They offer a breakfast of champorado, too. Heavenly Chocolates is a Wi-Fi zone.
WHAT WE THINK: Delicious, but falls a little bit short of being something you would go out of your way for.

Heavenly Chocolates is located at Roces Center, 127 Roces Avenue, Quezon City and is open from 1 p.m. to 10 p.m.
Source: www.spot.ph/eatdrink; www.clickthecity.com
Teaser photo source: www.ourawesomeplanet.com