Aguinaldo Shrine
The Aguinaldo Shrine is a national shrine of the Republic of the Philippines, located in Kawit, Cavite. The Philippine flag is raised here by top national officials every June 12 to commemorate Araw ng Kalayaan or Independence Day. The shrine is now an open museum that open to all visitors.
The house was first built in 1845, The shrine is the ancestral home of Emilio Aguinaldo, the first president of the First Republic of the Philippines, and it was here that Philippine independence from Spain was proclaimed from the balcony of the mansion on June 12, 1898. The proclamation of Philippine Independence was read, though this was subsequently replaced by another declaration written and signed in Malolos, Bulacan).
The Philippine flag was formally unfurled to the people, although it had been flown during battle in late May of 1898 (now celebrated as Flag Day on May 28) and the Philippine national anthem was also played as incidental music (the lyrics were written in 1899 by José Palma) by the marching band of San Francisco de Malabon (now General Trias, Cavite) on that date.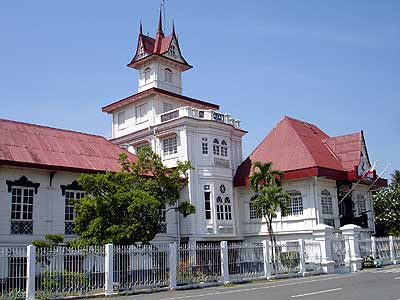 Its design, which features secret passages and hiding places for documents and weapons, showcases how the revolutionary zeal infused even the comfort of Filipino homes. On its first floor is the museum, where a hologram depicting Aguinaldo can be seen. The house's main section is emphasized by a pyramid like structure capped with a six-storey spired tower at the very top. The second floor houses Aguinaldo's bedroom, the grand hall, dining room, kitchen, a conference room and azotea. The house is filled with fine antique furniture and decorated throughout with motifs of flags and national symbols. Aguinaldo's tomb may be found in the garden.
President Aguinaldo, particularly while in retirement after his capture and release by the occupying American forces, greatly enlarged his home, constructing an elaborate "Independence balcony" which many visitors today assume to be the actual location of the Independence Proclamation. The first president himself is buried in the garden of his home, which he donated to the Philippine government in 1962.
Source: en.wikipedia.org
Teaser photo source: aralingpinoy2.blogspot.com